Mid State Trail Guide and Maps
Order t he latest 2008 11th Edition of the Mid State Trail Guide, and get the current ALL FULL COLOR maps here, to support PA's longest and wildest footpath!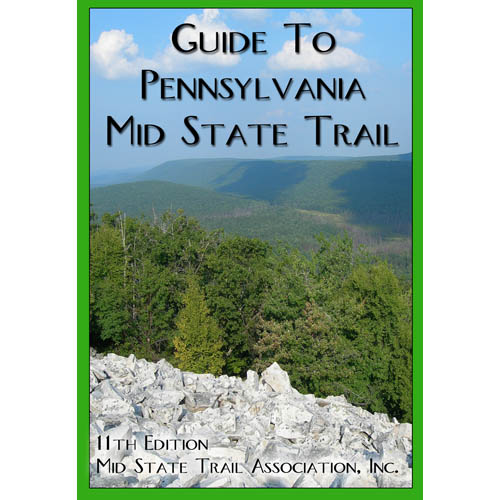 This compact book is your essential companion to hiking Pennsylvania's longest and wildest footpath, with information about distances in both directions, parking, water, camping, and a few tidbits about the nature and culture the trail passes. Descriptions give distances both ways using the same text, to save weight and bulk. The 11th Edition describes crossing the entire waist of the Keystone State, from Maryland to New York. Please scroll down for several significant updates to the 11th edition and the maps in the printed set, or you will find yourself walking roads in several places instead of brand new off road trail!
Since 1973, MST guidebooks have exclusively used the metric system, leading the way in breaking America free from outdated colonial units of measure. Distances in the guidebook and on the official color maps are given in kilometers, and elevations in meters above sea level. If you think in other units you will need to adjust the given units accordingly.
Official Mid State Trail maps are vital to help point the way along our often surprisingly remote footpath. For many years, MSTA has published clear, accurate, waterproof black-and-white maps. The current maps our volunteers have produced are ALL FULL COLOR , now keyed to the current statewide extent of the trail, and fully metricated down to the contours and the UTM grid. If you have ordered a map and guide set from MSTA before September 2010 you will need to read closely the section-by-section map list below, to ensure you have the correct map for your intended destination on MST. From this web site you can order individual pieces to bring your collection current! The new map numbers track the new section numbers.
The maps for the north end (Sections 17 through 20) are NOT included in the guide and map set as they are not yet printed. Even if you bought the full map and guide set, you will need to scroll down to the section by section listing below to download these latest color maps for the north end!
Buying the guide and maps here on this web site contributes valuable financial support to keeping the MST open for all hikers . If you are looking to buy individual maps or just the guide, this is probably the only place you'll get it!
Many outfitters and some bookstores in PA and nearby also offer the MST guide and map set on their virtual sites or their real stores. Please be aware outfitters and bookstores might not have the most current maps, whether in a walk-in store or online. In fact most purchase theirs for resale from a wholesaler not directly from MSTA. Accordingly MSTA cannot be responsible for ensuring that guide(s) and/or map(s) that you purchase from any source, other than directly from MSTA, is the most current as of when you buy it. Furthermore, your purchase is a one-time sale not a subscription, MSTA cannot be responsible for supplying you with more current information, except by ordering new pieces from us at the posted prices. Check your package against the list below, and order individual pieces from our links below if you need more up-to-date maps or guides.
Our volunteers are continuing to improve the footpath, so be sure to check this web page before you hike to be sure you have the most up-to-date official information. As soon as there is a temporary or permanent change in the MST route, look here for your best guidance.
The online updates assume you already have the most current printed information – so if you don't, check the list below against your collection to see what pieces you need, and order today!
Please allow 4 weeks for our volunteers to fill your order - although it may come faster, especially if you use online ordering and not a check in the mail. If you have a concern or special need regarding ordering the maps and/or guide book feel free to contact us at sales@hike-mst.org
Questions, comments, assistance, and suggestions for the volunteers who work on the maps are welcome! E-mail gis@hike-mst.org
Order the 11th Edition Guide/Map SET (2008) with All Full Color Maps Online | Order the 11th Edition Guide By Itself Online
Printable Order Form to Send through US Mail
Mail Drop & Food Stores Table for Long Distance Backpackers (PDF)

Check the following list of Current Guide, Maps, Alerts (temporary changes), and Updates (permanent changes) by Section. There are several significant updates to the 11th Edition, please scroll down for the most current information.
The list is keyed to the 11th Edition section numbers which have changed from previous Guide editions !
Total length of MST is currently 522.6 km.
Section No.

Guide

Map

Alerts/Updates

Other Info

1 - MD Border to PA 326 2nd Crossing ( 23.4 km ), Buchanan State Forest and SGL 97, Bedford County, Everett Region

New connection to Great Eastern Trail route in Green Ridge State Forest is open MST now begins/ends at PA 326/Black Valley Road at MD border, just northeast of Flintstone, Md. (4/09)

Blazes have been obscured on some parts of the old route through Hewitt. (6/10)

Off road route north of Beans Cove Rd/SR 3005 moves MST off Martin Hill Rd into Martin Hill Wild Area, south of powerline. (6/09)

Added switchback north side of Martin Hill adds a view. Too small to show up on maps. (4/12)

See temporary guide, link to left.

None at this time

2 - 2nd PA 326 Crossing to SR 1004 (22.6 km), SGL 97, Bedford County, Everett Region

None at this time

None at this time

3 - SR 1004 to PA 36 ( 29.3 km ), Private Land and SGL 73, Bedford County, Everett Region

Relocations into the privately owned Earlston Furnace Cinder Piles along the Raystown Branch south of Everett; the beginning of a relocation on SGL 73 behind Blue Triangle Hardwoods north of Everett; and correcting an error in distance in the printed guide on Snake Spring Valley Rd, are all reflected in the posted guide erratum to left. The relocations are shown on the current printed 301-306. (9/11)

None at this time

4 - PA 36 to PA 164 (20.6 km), SGL 73, Bedford/Blair/Huntingdon Counties, Everett Region

None at this time

None at this time

5 - PA 164 to PA 866 (25.2 km), SGL 73, SGL 118, Blair/Huntingdon Counties, Everett Region

None at this time

None at this time

6 - PA 866 to US 22, (18.3 km), Lower Trail, Williamsburg to Alfarata, Blair/Huntingdon Counties, Everett Region

None at this time

None at this time

7 - US 22 to PA 26 (32.3 km), Rothrock State Forest, Huntingdon/Centre Counties, State College Region

None at this time

None at this time

8 - PA 26 to Detweiler Junction (24.3 km), Rothrock State Forest, Huntingdon/Centre Counties, State College Region

None at this time

None at this time

9 - Detweiler Junction to US 322 (16.4 km), Rothrock State Forest and Penn Roosevelt State Park, Centre/Huntingdon/Mifflin Counties, State College Region

None at this time

None at this time

10 - US 322 to PA 45 ( 42.9 km ), Bald Eagle State Forest and Poe Valley & Poe Paddy State Parks, Centre/Mifflin/Union Counties, State College Region

Relocation between Poe Valley and Poe Paddy - MST's orange blazes have been moved onto [Dry] Hollow Trail (where they were before 1981), and off an unmaintainable rock pile on Poe Mountain (formerly John Fry Trail). Distance 0.77 km shorter. See combined map/guide revision (3/10; 8/10)

None at this time

11 - PA 45 to PA 192 (18.1 km), Bald Eagle State Forest, Centre/Union Counties, State College Region

None at this time

None at this time

12 - PA 192 to PA 880 (33.2 km), Bald Eagle & Tiadaghton State Forests and R.B. Winter & Ravensburg State Parks, Union/Clinton/Lycoming Counties, Woolrich Region

None at this time

None at this time

13 - PA 880 to PA 150 (20.9 km), Bald Eagle & Tiadaghton State Forests, Lycoming/Clinton Counties, Woolrich Region

None at this time

None at this time

14 - PA 150 to PA 44 (22.2 km), Tiadaghton State Forest & Woolrich Inc. lands, Clinton/Lycoming Counties, Woolrich Region

None at this time

None at this time

15 - PA 44 to SR 4001 (16.9 km), Tiadaghton State Forest & Little Pine State Park, Lycoming County, Woolrich Region

A gas drilling pad has been constructed on Tiadaghton State Forest land along MST on top of the mountain between Dam and Ramsey Runs. On 11/1/10 Anadarko constructed a reroute around the drilling operation per DCNR. The reroute can be followed. Please see

this info from DCNR

on minimizing conflict between hikers and our new gas industry neighbors. (10/10; 5/11)

None at this time

16 - SR 4001 to PA 414 (40.6 km), Tiadaghton & Tioga State Forests and SGL 75, Lycoming/Tioga Counties, Woolrich Region

None at this time

None at this time

17 - PA 414 to PA 287 1st Crossing (24.0 km), Tioga State Forest, SGL 268, and Private Land, Tioga County, Tioga Region

None at this time

None at this time

18 - PA 287 1st Crossing to US 6 ( 38.5 km ), Private Land and Tioga State Forest, Tioga County, Tioga Region

As a reminder and per the guide the off road route around Antrim is closed Oct 1-Jan 15 for hunting.

Gas drilling and pipeline work is under way on private land in this section. At this time we think any interruptions in the route will be short term in nature and able to be detoured using the nearest road. Wimbrough Campsite is again accessible. Any particular concerns contact tioga@hike-mst.org (8/11)

Relocation north from Sand Run Falls through Dyke Creek is now blazed. Still unblazed roads north from State Forest for now. MST now passes PARKING on State Forest at Arnot Road 4 km east of former location with no parking by private land. Route is 6.4 km longer for the thru hiker. See temporary guide and map to left. (8/11; 9/11)

Off road route now open between Mudge Rd and US 6. Watch for unbridged streams. Parts closed Oct 15-Jan 15 for hunting. (4/09)

Parking available at River of Life church on US 6, milepost 228.5, except Sundays. (4/09)

See temporary guide and maps, link to left.

None at this time

19 - US 6 to PA 287 2nd Crossing ( 23.7 km ), Private Land, Hills Creek State Park, SGL 37, and Tioga-Hammond Lakes, Tioga County, Tioga Region

Off road route now open between Hills Creek SP and US 6. Can be very wet at times. Parts closed Oct 15-Jan 15 for hunting. (4/09)

Gas drilling and pipeline work is under way on private land in this section. At this time we think any interruptions in the route will be short term in nature and able to be detoured using the nearest road. Please download the current maps. Any particular concerns contact tioga@hike-mst.org (6/11)

See temporary guide and map, link to left.

None at this time

20 - PA 287 2nd Crossing to NY Border (29.0 km), Private Land, and Cowanesque Lake, Tioga County, Tioga Region

Off road route reopened between Ridge Rd and Elkhorn Rd. Can be steep and treacherous near unbridged stream. Closed Nov 15-Dec 15 for hunting. (4/09)

RV's Mt Top CG has changed hands and is now Tioga Heritage Campground with new phone number 570 835-5700. (7/10)

Between campground/Scenic View Dr and Smith Hill Rd - No longer need to call ahead to hike, trail rerouted at hunting preserve. (4/09)

Gas drilling and pipeline work is under way on private land in this section. At this time we think any interruptions in the route will be short term in nature and able to be detoured using the nearest road. Please download the current maps. Any particular concerns contact tioga@hike-mst.org (6/11)

A - Greenwood Spur (10.8 km), Connecting to Standing Stone Trail, Rothrock State Forest and Greenwood Furnace State Park, Huntingdon County, State College Region

Relocation north of Greenwood Furnace reflected in guide revision to left. (4/12)

B - Ironstone Trail (17.1 km), Rothrock State Forest and Stone Valley Recreation Area, Huntingdon County, State College Region

None at this time
15 April 2012, NPF